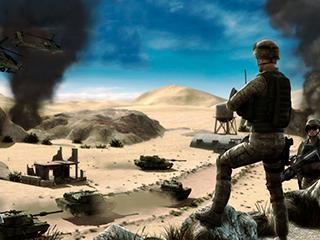 Version complète du jeu
1.03MB
Desert Operations
Desert Operations is a free military strategy game, where you can face thousands of other players for combat or trade. Rushing your enemy with a great number of troops will
not be enough, when you'll need tactics and strategy for the bigger picture. As a Commander, you'll be in charge of 30 buildings and over 50 ground, air and sea units.
Use a variety of tactics at your disposal, like espionage, trading and your full combat power to lead your great nation to supremacy.
Configugation du système
OS: Windows XP/Vista/7/8/10
Processor: 1GHz
RAM: 512Mb
Caractéristiques du jeu
Command your troops, fighter jets, heavy tanks, bombers and warships around the world
Send your spies to infiltrate the enemy bases and acquire the most precious resource at war: intelligence!
Control the resources, the flux of oil and provoke conflict when you embargo your enemy and break his resource income
License Information
Tous nos jeux PC sont distribués en tant que freeware par d'autres éditeurs de jeux ou développés par un studio de jeu vidéo interne.
Aucun software piraté, jeux 100% legaux.