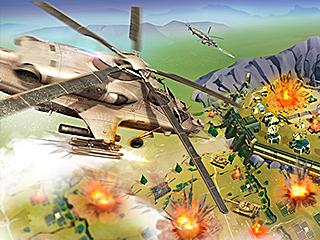 Vollversion des Spiels
0.94MB
Empire World War 3
World War 3 is on! Build up your base, train your units, and command them in action packed battles. Prospect and mine the rare resource Millennium and secure the highest
amount possible. Observe your enemies' every move on the world map and loot their bases.
In Empire: World War III, the strategy behind your skills means the difference between victory and defeat. Choose a commander to lead your troops according to your strategy. Train multiple armies, each with their own strengths and weaknesses. Update your troops to increase your ability to dominate the battlefield. Research economic, prospecting, defense and military technologies to suit your strategic needs.
Warfare turns ruthlessly violent to sabotage and eliminate competition. Ally with the most powerful commanders. Use any means necessary to crush your enemies to get the biggest share of the pie of the lucrative Millennium. Who will dominate the war for Millennium? Do you have what it takes to dominate them all?
The war is on! Lead your army into the fight for the rare resource Millennium in Empire: World War III! Enjoy a non-stop, 24/7, action-packed game brought to you by the developers of the global strategy hit "Empire: Four Kingdoms".
System Anforderungen
OS: Windows XP/Vista/7/8/10
Processor: 1GHz
RAM: 512Mb
Spiel Funktionen
Different advance weaponry system that you can explore
Realistic sound effect that accompanies you throughout the game
Action filled war strategy game that encourages critical thinking
Lizenzinformationen
Alle unsere PC-Spiele wurden als Freeware von anderen Spieleherstellern lizenziert oder vom internen Game Studio entwickelt.
>Keine Raubkopien, 100% legale Spiele.