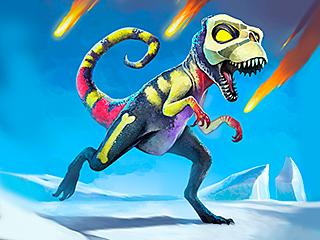 Version complète du jeu
86.93MB
Dino Rage Defense
We know why the dinosaurs disappeared! Fight off hordes of dinosaurs! Build defensive towers and survive in the Ice Age! Wage an uncompromising war of the species in an alternative
history in this continuation of a popular strategy game. The scientist and his electronic assistant are in trouble again. Defend the time machine with the power of science and strategy.Use powerful inventions to defeat hordes of new vicious enemies. Enjoy 2 new episodes with a multitude of levels, complete with comics to tell you all about the heroes' adventures, their search for fuel for the time machine, and the nuances of life in a predatory era.
Configugation du système
OS: Windows XP/Windows Vista/Windows 7/Windows 8
CPU: 1.0 GHz
RAM: 128 MB
DirectX: 9.0
Caractéristiques du jeu
Exciting prehistoric battle!
Fantastic new creatures, monsters and episodes!
40 levels with variety of tactics!
Comics stories and beautiful graphics!
Reveal all of the secrets of this increadible story!
License Information
Tous nos jeux PC sont distribués en tant que freeware par d'autres éditeurs de jeux ou développés par un studio de jeu vidéo interne.
Aucun software piraté, jeux 100% legaux.