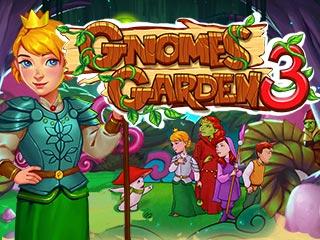 Version complète du jeu
63MB
Gnomes Garden 3
The gnome princess has finally come home. She managed to make peace with the trolls and befriend
their queen, but at home evil was afoot: a warlock collector stole the gnome monarch's castle along with the royal family! The princess must gather a team and set off on a new adventure to save her loved ones! Set off with her through uncharted lands full of mystery and unbelievable creatures in the exciting casual fantasy/strategy game Gnome Garden 3. Lots of different objectives, more than 40 levels, a fun plot, simple and engrossing gameplay, and new game elements: all this and more awaits in a special magical world. Manage resources and building construction, plant magic giant trees, and fight against the dastardly warlock and his mass of followers. Simple gameplay and concise insructions will help you dive right in. Just don't forget about the princess' immense magical power if you get stuck! Gnome Garden 3 — track the evil warlock to the Grey Wastelands!
Configugation du système
OS: Windows XP/Windows Vista/Windows 7/Windows 8/Windows 10
CPU: 1.0 GHz
RAM: 512 MB
DirectX: 9.0
Caractéristiques du jeu
Defeat the evil warlock and his army of gremlins, save your family and castle!
Over 40 levels and a variety of quests
Enthralling gameplay for all ages
License Information
Tous nos jeux PC sont distribués en tant que freeware par d'autres éditeurs de jeux ou développés par un studio de jeu vidéo interne.
Aucun software piraté, jeux 100% legaux.