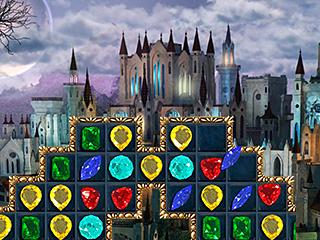 Version complète du jeu
93.11MB
Jewel Match 2: Reloaded
Return to a mesmerizing match-three wonderland in this gloriously remastered version of Jewel Match 2! Beautiful new HD graphics, new castles to build, 50 new levels (200 total!) and even
fully featured Mahjong and other minigames are just a few of the additions. Try out the all-new move-limited play mode for a change of pace from the timed levels, or just sit back with no stress in the relaxed mode. Classic Jewel Match 2 gameplay has you battling crates, locked chains, and forces of magic as you rip through each level with an arsenal of power-ups. Collect coins and amulets to upgrade majestic castles as you go. It's the Jewel Match 2 you know and love, but you'll adore revisiting it in an all new way.
Configugation du système
Operating system: Windows XP/Vista/7/8
Processor speed: 1200 MHz
RAM: 512 MB
Caractéristiques du jeu
New glorious HD graphics!
2 new castles to build, 9 in all
50 brand new levels for a total of 200!
New features such as big gem mode
20 replayable minigames
New move-limited play mode
License Information
Tous nos jeux PC sont distribués en tant que freeware par d'autres éditeurs de jeux ou développés par un studio de jeu vidéo interne.
Aucun software piraté, jeux 100% legaux.